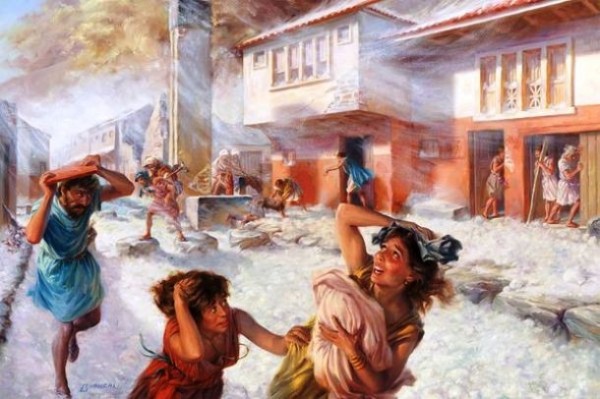 By Gabe
February 19, 2020

It was a sunny day in Pompeii, and Titus and Claudia, who had immense wealth, were on vacation. Titus's brother Alexander and his wife Antonia were resting on the beachside with them. The waves were crashing and the air was cool, but this was the calm before the storm. Suddenly, they noticed some rubble descending from the towering Mt. Vesuvius. Titus, his wife and some others thought it was wise to leave, but Alexander and Antonia wished to stay. Titus tried to persuade them that it was dangerous to remain on the beach, but Alexander stated unwisely that it was nothing to be worried about.
Unfortunately, volcanic rock, ash, and lava covered the beach like a blood-smeared blanket. Titus and Claudia made it to the hotel and quickly grabbed their items. "Claudia, you leave the jewelry! We urgently have to run!" demanded Titus. "But what about your brother?" replied Claudia. "Don't worry about him. He was a fool to stay on the beach," snapped her husband.
Ignoring Titus, Claudia hurried to save Alexander. But when Titus came to find his wife, she was buried under a pile of ash. Sadly, Titus hopped on a chariot and road away as fast as he could. Even though he saved himself, his family was burnt. Moral: Take good advice when it's offered by a loved one.